South Sound Reading Foundation Gives the Gift of Literacy
Do you know about a little non-profit organization called The South Sound Reading Foundation? We atFisher Jones Family Dentistry are fans of this organization and the great people involved who are committed to bringing books and the joy of reading to every child in the South Sound region.
The mission of the South Sound Reading Foundation is to ensure that every child is reading at least 20 minutes a day, either on their own or with an adult or older child. Reading just 20 minutes a day promotes the healthy brain development, family bonding and school readiness all children need to read and succeed.
The South Sound Reading Foundation serves over 1,100 children, youth and families each week. Over 85% served are low-income. The Foundation provides:
"Read 20 minutes a day" mission campaign
Free family education classes, story times, book talks
Free books
Here is a true story from the SSRF's executive director, Jennifer Forrester:
In the summer, most of the kids we serve are homebound: no books or book stores, no library visits. We serve these kids through our collaboration with partner agencies, mostly food banks and lunch drop-in sites. One of our favorite partners is the Thurston County Food Bank's ForKids lunch mobile program. The lunch mobile visits low-income housing units and trailer parks. For most of the 160-200 kids served each day, the lunch mobile is the highlight of their day and Fridays are extra special because the Book Van tags along with free books.
Last summer, or was it the summer before, one child stood out. He was probably 4 years old, had a crew-cut, and no shoes. The first time I saw him, he ran up to be the first in line and stubbed his toe. You could tell it hurt, but the kid couldn't have cared less, he was that focused on the books. He asked about dinosaurs, we found him a dinosaur boo,k and he was so excited!
Every other Friday we would return. The bare-foot boy was always the first in line and he always managed to find a dinosaur book, imagine that!
The last time I saw him was at Little Red School House. He ran up (shoes on, thank goodness) and yelled "the book lady is here, THE BOOK LADY IS HERE, AWESOME!" He acted like a kid at a carnival. I helped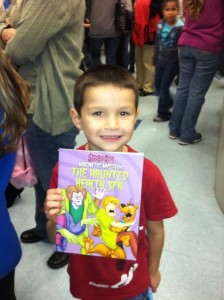 him choose another dinosaur book. And he said "This makes seven books. I now have seven books!" (That's the number of books he received from us that summer.) I asked him if he meant 7 dinosaur books and he said "no, BOOKS, and now grandma reads to me every night! And tonight we can read this one."
This child had no book in his home and now he has seven. More importantly, someone is reading with him so that when he starts school, he will have the early literacy skills he'll need to learn to read.
"Access to books and educational material is the single biggest barrier to literacy development." – Center for Improvement of Early Reading Achievement
"61% of low-income families have no age-appropriate books for children in their home." – Jumpstart on America's Early Childhood Literacy Gap
This story is a great example of the reason why Fisher Jones Family Dentistry loves the South Sound Reading Foundation and the reason why we feel it is a worthy cause to support.
Give the "Gift of Literacy" and make an end-of-year donation of cash or books to the South Sound Reading Foundation. Donation bins are located at the Fisher Jones Family Dentistry office at 2415 Pacific Avenue in Olympia, at South Sound Bank and at the North Thurston School District offices.
Comments are closed.