Care for the Earth, Care for those in Need and Eating Healthy = Healthy Teeth and Gums!
Madison Elementary Parents + Community Join Forces To Build Garden
It is stories like this that brings all of the important elements of community together!  We love it!   -mary ellen
January 8, 2013 | Filed underEveryday | Posted by ThurstonTalk Editor
Katya Miltimore struggled to find words to describe the field bordering the northeast section of Madison Elementary in East Olympia.
"None of this was here. Just a green field to the pavement, no table or greenhouses. It used to be very boggy, as it was the drainage area for the field. It was known as the Madison Swamp," Miltimore said with a laugh.
What a difference three years, countless volunteer hours and cooperation from local and statewide organizations makes.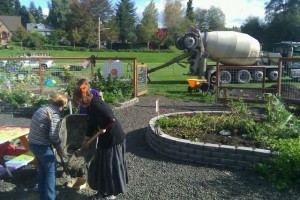 In late January 2010, volunteers broke ground on the Madison – Avanti Giving Garden, located on the premises of the East Olympia elementary school. About 48% of Madison's population uses the free and reduced lunch program. A portion of the students are considered homeless. What started as a project to boost kid's morale and the surrounding neighborhood has developed into a model of nutritional education. Students have learned about community cooperation while promoting healthy eating practices.
Thanks to fundraising efforts from the school and grant partnerships, students now grow and cultivate organic produce while learning healthy cooking methods.
Miltimore, a Madison Elementary parent, is one of the original organizers. She has seen the community come together for a positive cause.
"It's amazing to think about how many people have been involved with this project," Miltimore said. "It's such a partnership effort and shows that with hard work and positive people, a lot of great things can happen."
The idea to create the garden came from Madison Elementary parent Katie Stoll. From there, Stoll contacted the school's Principal Gayle Marchun and other parents. They began researching how to start the garden. And, the community stepped up.
Miltimore's husband, who works in construction, turned to his relationships with local suppliers to obtain discounted materials.
Stoll contacted GRuB about installing the garden and a bond between the two groups was forged.
Miltimore's neighbor and local landscape architect Kurtis Roberts provided a layout plan for the garden beds and other facilities, including a covered gazebo and greenhouse.
Great Western Supply and Curtis Lumber, along many other local businesses, donated a sizeable amount of building supplies.
Eventually, volunteers broke ground at the school.
"When we broke ground, everyone realized how much work was ahead," Miltimore said. "It just looked awful and we had to strip sod while it was raining. We were sinking down to our knees in mud."
After grating the area, gavel was delivered and GRuB immediately came out and installed ten beds. After receiving a donation for the landscaping block, the group organized work parties nearly every other weekend.
"We had a lot of student parents help but some of the most active contributors were from parents with really young children who would eventually attend the school," Miltimore said. "They wanted to improve the school for the future. At that time, the enrollment was smaller and there were a couple of empty classrooms. Everyone wanted to install this garden to bring the community together."
Thanks to the volunteer work that spring, the garden was ready for summer harvest. Beth Wilson and Joellen Wilhelm, two future Madison Elementary parents, wrote a successful Lowe's Toolbox for Education Grant. The garden received $5,000 for a greenhouse kit, additional wheelbarrows, rakes and other gardening tools. Based on this success, the group began applying for other local grants, and received funds from the Community Sustaining Fund of Thurston County, the Community For Interfaith Celebration and the Newbridge Community Church, amongst many others.
Karen Ray, the School Gardens Coordinator with the Thurston County Food Bank, was on board from the beginning. The Food bank installed a sprinkler system for the garden. In exchange, a portion of the garden's harvest was donated to the food bank. In the first year, the garden raised over 250 pounds of donated produce.
During the summer, parents were concerned about wasting produce. Mike Velazquez, principal of Avanti High School, suggested offering a farm stand. During the fall and spring, on the first Thursday of the month, elementary students visit the farm stand and "purchase" produce with wooden tokens earned by good behavior in the classroom. At the garden's farm stand, students could select either produce from the garden or the Thurston County Food Bank.
"(The farm stand) was incredibly popular with both the parents and students. For this school year, we received a $1,000 grant from the Junior League of Olympia to supply us with more produce from the Food Bank," Miltimore said.
However, it became clear that farm stand "shoppers" were more attracted to popular produce items such as apples and carrots, leaving a surplus of unfamiliar foods such as kale and rhubarb.
"We saw these trends and decided that we needed to cook with the kids and show them how to utilize these other vegetables and fruits," Miltimore said.
Within the garden, produce was planted in individual recipe beds and sections. For example, a borscht soup bed was planted, with ingredients such as beets, potatoes and carrots present. Similar beds were planted for salsa and coleslaw.
Miltimore then brought in cooking supplies and demonstrated how to cook the Russian soup. It was a lesson met with positive results.
"I couldn't believe how positively the kids responded and neither could the teachers," Miltimore said.
From there, Miltimore partnered with the Olympia School District Education Foundation, who provided Madison Elementary with a $500 grant used to purchase a mobile kitchen island from IKEA, child friendly cutlery and other cooking supplies. Students work in groups to prepare the recipes.
At this point in the project, Miltimore estimated around seven to nine parents were helping with the in-class cooking preparation, requiring a 2.5-to-3 hour daily commitment. The parents received the help they needed from the Washington State University Extension Program, through the nutrition program Food $ense. WSU and the Madison Garden Project agreed that they could mutually benefit one another, and eventually, the food and supplies costs were covered by the university. Now, the Food $ense program also provides instruction for half of the cooking demonstrations.
In addition to that donation, local resident and professional chef Rick Mullins took charge of gardening lessons and a majority of the cooking coordination. Mullins supervises what the students grown in the garden, while at the same time teaching them how to create worm bins and other methods of composting.
"We have parents comment on how they enjoy cooking together and making things they've never cooked before," Miltimore said.
It appears that the rest of the state has taken notice of the positive effects the garden has had on the school and the community. The Washington Office of Superintendent of Public Institution (OSPI) recently published a wellness guide for state schools and addressed topics such as gardening and eating habits within schools. The report highlights Madison Elementary's Garden Project.
"Madison shines in that guide," Miltimore said. "Maybe two dozen other schools are cited and when it comes to cooking, gardening, and nutrition, our school was given as a statewide example of best practices."
Along with the recognition from OSPI, Madison was one of 58 top performing schools in the state to be recognized as a Rewards School and scored in the top ten percent for reading and math on the state test the last three years.
Miltimore noted that the WSU Extension Program Coordinator currently is implementing a similar program in at least three other schools in Thurston County.
"To hear about Madison in such a positive way, as an example how to implement something like this, it's amazing," Miltimore said. "We have a lot of pride in this project."
Most importantly, students of all ages have the opportunity to see what hard work and cooperation leads to.
"The morale around the student population has increased, and I think they can look at this project and see how the community came together in such a positive way for a much needed cause," Miltimore said. "A project like this, it instills pride, not just for the school, but the surrounding community."
Volunteers are currently finishing a second phase of the garden, focused on environmental education, native plant species and arts inspired by nature. This coming spring the garden will receive its finishing touches. Learn more by clicking here.
Photos courtesy of Steven Herppich.
Comments are closed.